The Charity Bake Sale is an event at school that happens once a year, where kids get to sell different treats of all sorts. It's held in all the hallways of Galaxy Hills Elementery School.
Layout
In each hall, several tables are placed next to the lockers.
On each table sits a student, selling the treats they have. The host sits at a table slightly longer than the others, and checks in the students coming to either sell or buy treats.
Treats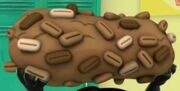 Many different treats can be sold, like cakes, cookies and cupcakes. The most famous treat of all is the Pecan Log, a giant pecan treat in the shape of a log. One student is asked to make the Pecan Log each year by the host. Then, the student must present the log to the host to find out where to display it. The log is then placed in its designated display spot, where everyone can see it.
Community content is available under
CC-BY-SA
unless otherwise noted.