"Yeah, what's he gonna do the the Mufflin, man? Do you know?!? The Mufflin, man!"
-Duke
Duke is a very sporty character from Fanboy and Chum Chum.
Biography
Duke is the sportiest kid in town! He always lives up for sports, and is always willing to try one out. Being a total team player, he often leads Fanboy, Chum Chum and others into not giving up and doing their best. While he is jockish, he isn't quite the smartest kid. In Saving Private Chum Chum, it is noted he likes skateboarding, as his toy is an entire skate ramp.
Physical Appearance
Duke is tall and thin, is pale-apricot skinned and has a blonde hair He wears a red and white long sleeved, #5 basketball jersey with light blue jeans, and black and white basketball sneakers.
Gallery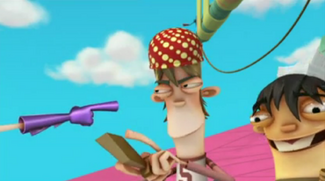 The image gallery for Duke may be viewed here.
Trivia
His first speaking role was in "The Janitor Strikes Back", when he called Fanboy and Chum Chum "weirdos" because of their bubblegum space helmets.
He usually adds the word "Man" or "Dude" into his speech. He often ends sentences with "man."
Almost every time he appears, he is seen doing a sport. Sometimes he is skateboarding or playing basketball.
As a pirate, he goes by the nickname "Scurvy Duke" (Fanboy A'Hoy!)
He is mistakenly called "Jack" in the book "Smell You Later!".
He has a helmet with Chum Chum's logo on it (Saving Private Chum Chum)
Episode Appearances
Community content is available under
CC-BY-SA
unless otherwise noted.