Fanboy and Chum Chum have been best friends ever since they first met in preschool. Friendship between these two fans of everything always seems to bloom faster and faster, and they are always happy and having fun a lot. However, separating Fanboy and Chum Chum for too long would upset the entire universe, and create a black hole. But, unlike the friendship between others, these two fans of everything, under the duoname, "FanChum", are always doing most anything. Fanboy and Chum Chum are amazing friends.
Fanboy's Opinion of Chum Chum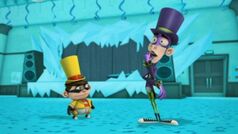 Since he and Chum Chum first met in preschool, Fanboy thinks Chum Chum is a best friend. He acts like a father towards his friend most of the time, and seems to know everything. He sometimes gives advice to his friend before setting him off, but if they are separated, a black hole will appear. Fanboy will never let his friendship with Chum Chum end, no matter how much they fight.
Chum Chum's Opinion of Fanboy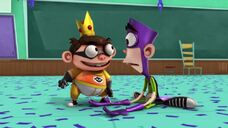 As a best friend to Fanboy, Chum Chum is always perking up. He often looks up to Fanboy when he needs help, and even has the ability to correct what Fanboy did whenever he sometimes says or does the wrong thing. Chum Chum has always been with Fanboy since the day they first met in preschool, and will always be with him. Someday, when he grows up, he might teach someone to be a fan like him.
Thickness of their friendship
Almost every episode has a friendship moment between Fanboy and Chum Chum, as they are the only characters to appear in every episode of the series. However, they have a tendency to fight when something doesn't go too good. Fanboy and Chum Chum share at least one friendship moment per episode, depending on what's happening.
Times they weren't friends or fought
Trivia
Gallery
The image gallery for Fanboy and Chum Chum's relationship may be viewed here.
Community content is available under
CC-BY-SA
unless otherwise noted.