"You're even weirder than yesterday?"
-Francine
Francine is a character in Fanboy and Chum Chum.
Biography
Francine is the sassiest, fanciest diva girl in Galaxy Hills. She is fabulous and is always thinking of things that are famous and fancy, like she is. She sometimes can be a bossy tattletale, but always knows the soft side of others. What Francine wants is to be a star and have her photo in the paper.
Physical Appearance
Francine is tall and thin with moderate peach skin. She has long, brown hair that parts on the right side, with a small, pink barette on the left, and wears purple earrings. She wears a magenta shirt dress with bell-shaped sleeves, large collar and orange stripes at the skirt, long white socks, and light brown high-heel boots.
Gallery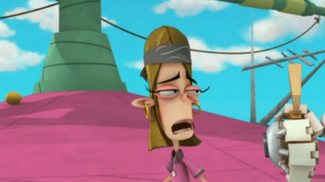 The image gallery for Francine may be viewed here.
Trivia
She was the first classmate to leave Fanboy's Night Morning Slumber Party ("Night Morning").
Her first speaking role was when she was annoyed at Fanboy for wearing Chum Chum's nose at her ("Pick a Nose"). For some reason, Annie Mumolo voiced her.
She, along with Nancy Pancy and Cher Leader, are the only classmates who wear earrings.
As a pirate, she goes by the nickname "Bilgret Bernice" ("Fanboy A'Hoy!")
She's the only classmate (other than Fankylechum) to not appear in the pilot episode, Wizboy.
In "Little Glop of Horrors", she was strangely not seen for almost the whole episode.
She has a Valley Girl-like voice.
Episode Appearances
Community content is available under
CC-BY-SA
unless otherwise noted.