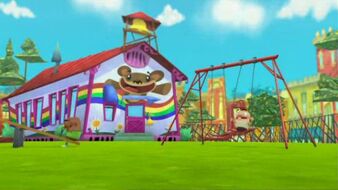 Galaxy Hills Kindergarten is the place where all the little kids go to learn. Locates a few miles away from the park, little kids from far and wide come to kindergarten to learn.
Outside
The outside of the kindergarten is like a little kid's paradise. It's pink with a red roof, and deep pink trim. Windows align the schoolhouse, and a door at the front leads inside. There are rainbows and a bear on the walls. Light grey stairs with flowerboxes at the sides are in front of the door. At the top of the roof is a small belltower. There is a playground with a red swingset, seasaw, and kiddie rides. The door and enterance gate have locks to prevent little kids from leaving.
Inside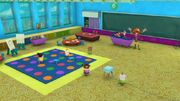 The classroom is where the little kids learn. It has light blue walls, and a yellow carpeting floor. There is a blue and yellow square rug with rainbow-colored polka-dots on it, where the little kids sit. A light green counter aligns the window area. The desks are red and rounded with little blue chairs. There is a toy box where all the toys go, little easels for art time, and a phonograph when it's time for music.
Community content is available under
CC-BY-SA
unless otherwise noted.