This is a list of episodes from the Nickelodeon animated television series
Fanboy and Chum Chum.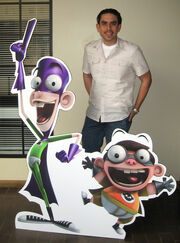 As of November 4, 2010, season 1 has completed. Many episodes aired separately by airdate.
Series overview
Season
Episode(s)
Season premiere
Season finale

Pilot

1
August 14, 2009

1

26
October 12, 2009
November 4, 2010

2

26
April 25, 2011

October 17, 2012
Episodes
Pilot: 2009
Title card
#
Title
Airdate

1

Fanboy

April 2007|August 14, 2009

Fanboy and his best friend Chum Chum, set out to taste-test their idol Fanman's new Frosty Freezy Freeze at the Super Mart.
Season 1 is comprised of 26 half-hour episodes with 2 eleven minute cartoons in each episode.
#

Title Card

Title
Original airdate
Summary
1
Wizboy
November 6, 2009
The boys think Kyle (the new kid) is a pretend wizard. But, the boys soon learn their new friend is an actual wizard expelled from a wizard school called Milkweed Acadamy.
Pick a Nose 
April 1, 2010
The boys switch noses for class picture day, but rivalry is just around the corner.
2
The Janitor Strikes Back
November 7, 2009
Yum Yum (Fanboy and Chum Chum's gum friend) comes to school, but the new janitor is on the case.
Dollar Day
October 23, 2009
The boys go to the Frosty Mart to by Frosty Freezy Freezes, but Chum Chum spend their only dollar on Boog's Chimp Chomp game.
3
Trading Day
November 6, 2009
Fanboy trades Chum Chum for Yo's Mecha-Tech robot.
The Hard Sell
January 16, 2010
Fanboy and Chum Chum try to convince Oz to sell something so he doesn't lose his store.
4

Digital Pet Cemetery
October 12, 2009
After they accidentally "power down" Yo's digital pet cat Scampers, Fanboy and Chum Chum bury it at the graveyard only to make it come back as a zombie.
Fanboy Stinks
January 16, 2010
Fanboy refuses to bathe for a not bathing record, but his right hand comes to life and threatens to rob the school's charity bake sale.
5
I, Fanbot
November 14, 2009
Fanboy and Chum Chum have a test coming up and if the entire class passes, they win a bouncy house. Fanboy decides to install his brain into Oz's robot to get smarter, but worse results come to follow.
Berry Sick
When a heatwave hits Galaxy Hills, the boys see the Frosty Freezy Freeze machine is on the fritz. They try to nurse Berry, the ice monster who runs the machine back to health but wind up getting "Frosty Freezy Freeze Fever" the moment they lick him.
6
Chimp Chomp Chumps
November 28, 2009
Boog will do anything for the boys if he wants to get one of their 3 tickets to see a Chimp Chomp movie.
Precious Pig
Fanboy and Chum Chum take home and care for the class pet pig, Precious. But Mr. Mufflin catches Fanboy teaching him kung fu and thinks he's hurting him, so he takes Precious back and Fanboy can no longer care for him.
7
Fangboy
November 21, 2009
Fanboy suspects he's bitten by a vampire, and the boys go see a neck specialist who IS a vampire.
Monster in the Mist
Boog believes he saw a monster in the Frosty Mart, and Fanboy and Chum Chum help him catch it.
8
Brain Drain 
June 11, 2010
Fanboy gets amnesia, causing Chum Chum to become an open target for Yo.
Fanboyfriend
February 6, 2010
Lupe falls in love with Fanboy after he "saves" her from a spider.
9
Chicken Pox
March 29, 2010
Kyle transforms into a chicken after getting the chicken pox, so the boys try to get him to turn back to normal by laying an egg.
Moppy Dearest
March 30, 2010
Fanboy assembles a mop girlfriend as a date for his school dance.
10
Norse-ing Around
January 2, 2010
Fanboy and Chum Chum meet a viking named Thorvald, and try to get him back home to Valhala.
The Janitor's Apprentice
When Fanboy and Chum Chum are punished for making a mess in the cafeteria, they have to help Janitor Poopatine clean up the school.
11
Excuse Me
December 5, 2009
Fanboy, Chum Chum and Kyle get Kyle's Scrivener Elf to write fake excuse notes to get out of various classes.
Night Morning
Chum Chum shows Fanboy a time of day called Night-Morning (midnight). Fanboy invites the whole class over to party, but it doesn't seem as fun to them as Fanboy and Chum Chum do.
12
Marsha, Marsha, Marsha
March 13, 2010
The boys wind up in the wrong playground and are mistaken for preschoolers. While there, they encounter Marsha, Fanboy's archenemy.
Secret Shopper
The boys learn to take care of business when a Secret Shopper comes to the Frosty Mart.
13
Prank Master
February 15, 2010
Prank Day arrives and the boys can't wait to show off their skills. But when Yo can't stop pranking Fanboy, he tries to prank her back.
Little Glop of Horrors
The kids are grossed out when the new lunch lady serves only disgusting, red glop and won't let them leave until they finish eating it. So, everyone tries to escape the cafeteria.
14
Total Recall
February 27, 2010
The boys are desperate to keep a recalled octopus toy named Agent 08.
Refill Madness
Lenny and Boog plot to steal Fanboy and Chum Chum's special cup that gives them unlimited, free refills.
15
The Frosty Bus
June 8, 2010
The boys want to buy a Frosty Freezy Freeze from the Frosty Mart's new bus, but Boog won't let them. So, they try to find a way to get their treats without getting bopped.
The Tell-Tale Toy
June 9, 2010
While Chum Chum leaves Fanboy by himself to care for his new Ultra-Ninja, Fanboy accidently breaks it, and tries not to let Chum Chum know.
16
Cold War
March 31, 2010
The boys are under the weather, and when they wind up fighting each other, they also fight over Kyle's attention when he comes to visit them.
Fanboy in the Plastic Bubble
April 2, 2010
Fanboy and Chum Chum buy Boog's plastic bubble from a yard sale, but Boog gets outraged when he descovers it makes the riders bop-proof.
17
Sigmund the Sorcerer
September 11, 2010
Kyle is not pleased when his old rival, Sigmund the Sorcerer, shows up in Galaxy Hills. And when Sigmund comes over to his place for dinner, Kyle tries to pass Fanboy and Chum Chum off as his elf assistants.
Fanboy A'Hoy!
While playing pirates, the boys accidentally bury the map with the treasure, so they get the whole class together to help find it.
18
Fan vs. Wild
November 2, 2010
Fanboy, Chum Chum and Kyle go camping on the Frosty Mart roof, but Kyle accidentally drops the rope to get down, forcing the boys to try and survive in the roof's bitter, cold, frosty weather!
The Incredible Shrinking Fanboy
November 1, 2010
Fanboy worries that he's shrinking, and moves into Yo's dollhouse.
19
Separation Anxiety
October 23, 2010
The boys' desks are separated for singing out loud during "Quiet Time", so they try to get reunited.
Strings Attached
March 31, 2010
Fanboy is turned into a puppet and tries to prove himself worthy by doing a good deed, but it doesn't go well.
20
The Book Report of the Dead
November 3, 2010
Fanboy swipes Kyle's spellbook to finish his book report, but ends up turning Mr. Mufflin into a zombie.
Stan Arctica
November 4, 2010
Man-Arctica poses as a storeworker named Stan at Oz's when Fanboy and Chum Chum believe that he disappeared forever.
21
Fan- bidextrous
June 10, 2010
Fanboy and Chum Chum are eager to ride a new roller coaster, but Fanboy's excitement later turns into fear.
Man-Arctica the Ride
June 11, 2010
Fanboy trains himself to be ambidextrous in order to be a better class clown.
22
Saving Private Chum Chum
May 15, 2010
Mr. Mufflin takes away everyone's toys, even Chum Chum. Fanboy gets his friends together to retrieve Chum Chum overnight.
Jingle Fever
May 15, 2010
Lenny tries to ruin Fanboy and Chum Chum's chances of winning a million Frosty Bucks by stopping them from writing a jingle.
23
Eyes on the Prize
October 9, 2010
The boys have no luck while searching for a cereal box toy that's in limited condition, so they seek help from Oz.
Battle of the Stands
The boys start a lemonade stand, but Lupe and Yo start a competing one across the street.
24
Lord of the Rings
October 2, 2010
Kyle tries to find out how Fanboy can connect two rings together.
The Incredible Chulk
Chum Chum grows into a Chulk, and Fanboy has fun. But when Chum Chum shrinks to normal size due to Boog scaring him, Fanboy tries to make him grow again.
25
Norse Code
June 19. 2010
Thorvald visits Fanboy and Chum Chum and they help him get his battle axe back from the lunch lady.
The Great Bicycle Mystery
June 19, 2010
When Lenny's bike gets destroyed outside the Frosty Mart, Fanboy and Chum Chum try to determine who did it.
26
A Bopwork Orange
September 18, 2010 
The boys teach Boog how to stop bopping so he can stay at the Frosty Mart.
Freeze Tag
September 18, 2010 
Man-Arctica takes a game of freeze tag up to a new level by freezing everybody! Fanboy and Chum Chum do their best not to get frozen.
On March 12, 2010, the series was picked up for a second season of 26 episodes.[1] The writers of the series said they started writing season two on February 1, 2010. On April 1, 2011 Frederator Studios announced that the first four episodes of Season 2 will premiere from April 25, 2011 to April 28, 2011, starting with "I'm Man-Arctica!" and "No Toy Story" and ending with "GameBoy" and "The Big Bopper" (Brain freeze is know as the series  finale because Nickelodeon didn't air the episode in 2014.)                                                                                            
This season consists of 22 episodes split up into segments, plus the first four half-hour episodes: Brain Freeze, There Will Be Shrieks, A Very Brrr-y Icemas and Super Chums.
Since February 11, 2012, the show has been airing episodes worldwide before the US.
#

Title Card

Title
Original airdate
Summary
1
I'm Man-Arctica!
April 25, 2011
Man-Arctica tries to prove who he is when Fanboy and Chum Chum refuse to believe him.
No Toy Story
The boys throw out everything they believe to be baby toys, leaving them with an empty Fanlair.
2
GameBoy
April 28, 2011
After the boys accidentally release the monkey from Boog's favorite videogame, Fanboy must rescue Chum Chum, who's pretending to be the digital primate.
Crib Notes
April 28, 2011
Kyle's scheme to cheat his way back into Milkweed backfires when his spell for "crib notes" turns him into a baby.
3
Schoolhouse Lock
April 27, 2011
The boys get locked in the school right before summer vacation.
Back From The Future
Lenny goes back in time to stop the boys from having their first Frosty Freezy Freeze.
4
Tooth or Scare

October 23, 2012

The boys try to convince the wizard tooth fairy that Kyle did not lose his tooth.
The Big Bopper 
October 23, 2012
Boog meets a bully much bigger and more aggressive than him.
5
Present Not Accounted For
April 26, 2011
Fanboy forgets Chum Chum's birthday, and desperately scrambles to find a gift for him.
The Sword in the Throne
When Fanboy learns that he is the king of the janitors, Janitor Poopatine is forced to tutor him by the Custodial Council.
6
Brain Freeze
(TV) July 12, 2014

(DVD)August 16, 2011

After losing their memories from a wicked brain freeze, Fanboy and Chum Chum must retrace their steps to locate their missing underwear. note this episode is similar to the Hangover. (The last episode)
7
Slime Day

October 30, 2012

Fanboy and Chum Chum can't figure out how to get slimed on Slime Day.
Boog Zapper
Fed up with Boog's bullying, Fanboy builds up an electric charge so he can shock Boog.
8
Risky Brizness
August 27, 2011
When Oz's cousin, Brizwald, comes to town, Oz is certain he's after his most valuable Man-Arctica comic book.
Kids in the Hall
Hall monitors Fanboy and Chum Chum complicate Kyle's attempt to get back into Milkweed Academy.
9
Frosty Mart Dream Vacation

October 19, 2012

Fanboy and Chum Chum win a dream vacation and choose to take it at the Frosty Mart.
Field Trip of Horrors
Fanboy and Chum Chum try to derail a field trip to the horrible Glop Mines.
10
There Will Be Shrieks
October 23, 2011
When Fanboy and Chum Chum lose their taste sense to a Halloween spirit, Mr. Trick, they try to bring him 1,000 screams in order to get it back.
11
Igloo of Irritation 
Augest 28, 2011
When the boys crash land on Planet Hasselhoth, their friendly visit with Man-Arctica results in the trio's capture by Man-Arctica's nemesis, Global Warmer.
HypnotOZed
August 28, 2011
Oz gets hypnotized by a toy robot into selling his collection of toys.
12
Robo-mance
February 11, 2012
Fanboy and Chum Chum play cupids when Dollar-nator falls in love with Oz's new security robot, Julie Android.
Rattleskunkupine!
The boys find a new pet and have to hide it from Oz when they learn that the Rattleskunkupine is terrorizing the city.
13
Bubble Trouble

October 24, 2012

The boys have to get Boog across the street to meet his idol, the Chimp Chomp champion.
Lucky Chums
Fanboy and Chum Chum find a Leprechaun in a box of cereal, but he refuses to give them the mystery cereal shape the cereal box promised.
14
The Last Strawberry Fun Finger
October 1, 2011
The boys find a third Strawberry Fun Finger in their usual two-pack and desperately try to decide who gets to eat it.
Power Out
The boys cause a town-wide blackout when they settle in to watch a movie from the future.
15
Dental Illness

November 2, 2012

The boys endeavor to help Boog beat the all-time record in Chimp Chomp.
Champ of Chomp
When Fanboy gets a toothache, he must overcome his fear of the dentist to seek treatment.
16
Lice Lice Baby

October 16, 2012

After Retchy Lintpockets spots Fanboy a piece of taffy on credit, Fanboy promises to get him next time. But instead, Retchy promises to "get" Fanboy next time, in this Raimi-esque tale of suspense!
Get You Next Time
The boys develop a crush on Nurse Lady Pam on Lice Inspection Day.
17
A Very Brrr-y Icemas
December 10, 2011
After Fanboy winds up on Man-Arctica's Naughty List, the boys infiltrate the Igloo of Ice-olation to try to get him back onto the Good List in time for Icemas.
18
Funny Face

October 22, 2012

With Class Picture Day in full swing, Fanboy and Chum Chum want the photo to be hilarious, and Fanboy made the funniest face yet. Fanboy has to keep the face for the entire day so he doesn't lose it, but it keeps getting him in trouble and Hank will do nothing but try to ruin the photo.
Put That Cookie Down!
It's Agent Johnson's birthday, and Lenny baked some dynamo chip cookies to try and get a raise. When he goes on errands and leaves Dollarnator in charge of guarding the treats, Fanboy and Chum Chum will stop at nothing to steal them.
19
Two Tickets To Paladise

October 29, 2012

Fanboy and Chum Chum wake up one morning to discover they are speaking and doing things at exactly the same time. Oz says they're in Paladise, a state where two friends grow like they are only one. The boys enjoy it, but when they suddenly "fall out" of Paladise, they try to get it back before it's gone for good.
The Winners

October 29, 2012

The entire town is participating in the Frosty Mart Sweepstakes, where there are prizes -- one of them has a million Frosty Bucks. When Fanboy and Chum Chum sip the winning cup, they try to redeem the prize before an angry anxious mob of residents steal it from them.
20
Hex Games

October 24, 2012

Kyle is upset when Sigmund releases a new video game, "Sigmund the Sorcerer's Wizard Challenge", until he finds out whoever wins the game gets an admission to Milkweed as the prize. With the help of Fanboy and Chum Chum and their ultimate video game skills, Kyle tries to beat the game without beating himself up.
Speed Eraser

October 24, 2012

After Fanboy takes over Kyle's position as Hank's Board Eraser-er, Kyle gets back at him by giving him a special eraser that literally erases anything. However, instead of Fanboy getting in trouble, he has an awesome time erasing everything in sight. Kyle will stop at nothing to get Fanboy to learn his lesson on eraser-ering.
21
Heroes vs. Villans

October 15, 2012

Fanboy and Chum Chum suddenly go into a debate over whether superheroes or supervillains would be good for them. As a result, Fanboy transforms into a villain named Fannihilator and Chum Chum becomes a hero called Super Chum. Now, the boys have to face off against each other to determine which side is better.
Face-Eating Aliens From Planet X
Yo is throwing a slumber party at her house, but Fanboy and Chum Chum are not invited because it's a girls only sleepover. Fanboy begins to believe that the girls are actually aliens who are planning to eat their faces, so he and Chum Chum go to the party disguised as girls to get proof.
22
The Cold Rush

October 18, 2012

In this western flashback, prospecters Faniel and Chumtholemew keep disrupting Lenwig with their chances of finding pink gold and discovering the Pink Frosty Fountain.
Camp-Arctica

October 18, 2012

Fanboy and Chum Chum go camping with Man-Arctica as his Man-Arctic Seal Cubs, but they are too cold in the freezing cold arctic tundra where the camp takes place. When they see Global Warmer's warm camp across the lake, they try to sneak over there without Man-Arctica noticing.
23
Buddy Up

November 1, 2012

Kyle does not get chosen for the "Buddy System" for a field trip to the Dinosaur Museum, so Fanboy and Chum Chum have him be a part of theirs. And when they accidently fall off the bus and get lost in the desert, they have to put their buddy skills to the test if they want to escape.
Normal Day

November 1, 2012

After Fanboy and Chum Chum discover they've been wacky all this time and haven't learned to act normal, they decide to change their image and act normal and proper for one entire day. Their new attitude suddenly becomes seemingly obsessive as they try have privacy because they are now unable to help their friends and get used to everything silly.
24
Microphonies

October 26, 2012

Fanboy and Chum Chum recieve the new toy, Mega Mic, and learn that it makes their own sound effects rather than auto-tune their voices. The boys enjoy having fun with it, but they must stop when the microphone starts making sound effects on its own and turns against them.
Freezy Freaks

October 26, 2012

Boog has to dress up as a giant Frosty Freezy Freeze for his job one day, and when Fanboy and Chum Chum meet him, they mistake him for the Frosty Mart's mascot, Freezy. Boog will do anything to dodge their constant frenzies and leave them alone.
25
Super Chums

October 31, 2012

In this superhero parody of the series, Super Chum faces a new villan, Copy Kitten, who threatens to replace Fannihilator as arch nemisis. The two team up together to rescue Professor Oz and stop Copy Kitten from stealing Super Chum's powers and become the new nemisis forever.
26
Attack of the Clones

October 17, 2012

After Fanboy is banned from the field trip to the thermometer factory due to getting detention for his science project failing, Chum Chum uses his cloaning ray to clone themselves so they don't have to stay behind. But things get bad when the clones repeatedly clone themselves and wreck havoc on the entire town.
Secret Club

October 17, 2012

Fanboy and Chum Chum decide to start their own Super Awesome Club, but no one shows up, as they joined a Secret Club instead. The location is unknown, so the boys go on a wild fun-house like adventure while trying to find the location of the club.
Community content is available under
CC-BY-SA
unless otherwise noted.