"Time to BREAK ARCTIC WIND!!!"
-Man-Arctica's catchphrase
"I'm Man-Arctica! I save entire galaxies before breakfast!"
-Man-Arctica
Man-Arctica
is an ice-themed superhero in Fanboy & Chum Chum.
Biography
The most famous sub-zero superhero to everyone in Galaxy Hills, Man-Arctica is brave, bold and strong. A resident at the Igloo of Ice-olation, he knows where there's crime and goes there to fight it. He even acts as a Santa Claus-like figure to everyone on Icemas (a parody of Christmas), and delivers toys to everyone in town. Man-Arctica is true and bold.
Physical Appearance
Man-Arctica is known to wear his super suit wherever he goes. He wears special slippers, gloves, shoulder caps, underwear and a helmet with an ice coating. He also has ice goggles and a huge chin. His head is slightly falcon-like. The only part of his suit which is not ice-coated is his cape. It stops just at his knees and has a zigzag on the hem. His suit also has an "M-A" monogrammed onto the chest.
Personality
Powers
Gallery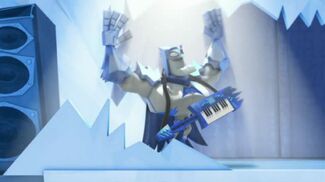 The image gallery for Man-Arctica may be viewed here.
Trivia
He loves milk and cookies, but not cookies and milk after getting sick the first time he tried them, as shown in "Night Morning".
His name is a pun on Antarctica.
He is known to be the most common appeared character other than Fanboy and Chum Chum, as he has appeared and was mentioned in a number of episodes and made many cameos. His merchandise is also seen often.
His biggest fans are Fanboy, Chum Chum, and the Secret Shopper.
"Freeze Tag" reveals that Man-Arctica is allergic to wool.
He attended Slapmanulic Community College. ("I'm Man-Arctica!")
He was under a sleeping spell while in Grandma Ray's sweater, whereas she also baked him Chocolate Crinkle cookies. ("I'm Man-Arctica!")
Kyle once mispronounced his name as "Man-Artica" ("Separation Anxiety").
It's revealed that he battles villains before breakfast. ("I'm Man-Arctica!")
Episode Appearances
See Also
Community content is available under
CC-BY-SA
unless otherwise noted.