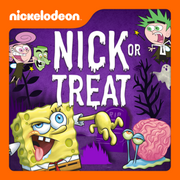 Nick-or-Treat! is a downloadable digital DVD available on iTunes. It was released in 2013 and contains one episode from season 2 of Fanboy and Chum Chum. Along with select episodes of SpongeBob SquarePants, The Fairly OddParents, and T.U.F.F. Puppy.
Sypnosis
We've scared up some hauntingly good episodes from four hit shows! It's off to the movies with SpongeBob and Patrick. But they don't dare look at the screen. Too scary, what with the fisherman and his hook! Then, SpongeBob conjures up the ghostly ghost of Rusty Rickets during a séance he holds to find out an old recipe for Rusty on Rye. In the Fairly OddParents' "Fairy GodCouple," Vicky and her anti-fairy, Foop, terrorize Timmy and the other kids of Dimmsdale. Then, in TUFF Puppy, on Halloween the town's villains take all of Petropolis's candy, while Keswick brings a candy-craving horde of zombies to life! And Fanboy and Chum Chum hit the streets for a night of trick or treating only to find themselves on the receiving end of a frightening trick… they have to collect one thousand screams for the creature if they ever want to taste candy again! So dive in to this collection of frighteningly funny episodes. It's a real treat!
Episode
Community content is available under
CC-BY-SA
unless otherwise noted.