"Seriously!"
-Oz's catchphrase
Oz is an adult friend of Fanboy and Chum Chum, and the secondary tritagonist of the show.
Background
Oz is the wisest, strongest, most amazing friend to Fanboy and Chum Chum. As the oldest of their main group of friends, he is known to be "the most knowledgeable human being ever," yet in reality, he is a nerdish know-it-all who lives with his elderly mother. He runs a comic shop called Oz Comix, and he has a vast stock of comics and collectibles, all of which he hoards, and none of which he is willing to sell.
Personality
Strong, fierce, and brave, Oz can be willing to help anyone. He wouldn't doubt anyone in trouble, and feels sorry for them. However, he is sometimes angered and saddened when someone (especially his mother) wants him to sell something in his shop. But mean or not, Oz can be brave and fearless.
Physical Appearance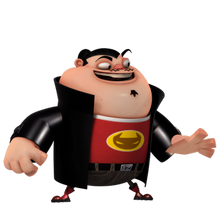 Oz is plump, with moderate apricot skin. He has long, jet-black hair in a ponytail, a soul patch beard and a goatee. He also has a set of freckles on his chin.
Oz usually wears a black high collared leather jacket with a red shirt with angry cat elebem underneath and skinny jeans. Around his waist is a black belt with his name engraved on the buckle. He also wears dark red galoshes, perfect for stomping on things really hard.
Gallery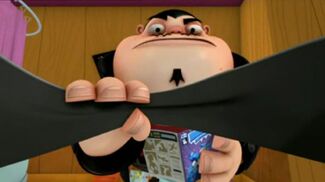 The image gallery for Oz Harmounian may be viewed here.
Trivia
Episode Appearances