"Uh, in case you haven't noticed: I'm cute!"
-Yo, Freeze-Tag
Yo is a character in Fanboy and Chum Chum.
Background
Yo is a girl of a Japanese descent with an obsessive crush on Chum Chum, much to his best friend's annoyance. Despite her antagonistic relationship with Fanboy, who she often argues and fights with, she's really just a kind-hearted girl: sweet, fun, and prepped for adventure. Her background is obscure, and as for her family, only father has been briefly mentioned.
Personality
Yo is sweet and gentle (if not a bit intimidating). She is a collector of all things adorable. She owns a hoard of Yamaguchi digital pets, one of which is named Scampers.
As a collector of all things adorable, she routinely tries to kidnap Chum Chum from Fanboy, often with the plan to dress him, brush his hair, and shelve him alongside her other toys. More often than not, it's the job of Galaxy Hills' superfan to rescue him from her clutches.
Yo is a talented prankster, dominating Fanboy in multiple forms of revenge when the annual Prank Day comes around.
Yo is naturally cheerful but becomes crazed and obsessive when she interacts with Chum Chum. She is a master manipulator, using her sweet demeanor to collect large amounts of money from lemonade stand costumers, trick Fanboy into handing over Chum Chum for an awesome Mecha Tech gadget, and stop Man-Arctica from freezing the citizens of Galaxy Hills (unsuccessfully).
In later episodes, she gradually grows into a calmer, kinder character. Whereas in the first season she is very aggressive toward Fanboy, hurting him severely on multiple occasions in pranks and fistfights. She's a lot more kinder in the last season, showing compassion toward her frenemy, offering him advice, and asking him for help. She even grows close to Chris Chuggy in Robo-Mance and accepts his hand and valentine.
Physical Appearance

General
Yo is tall and rounded with light-pinkish-apricot skin. She has short, jet-black hair with even hime bangs that she ties into pigtails using pink bows.
Usual
She wears a yellow and pink t-shirt with a smiley-face on it, a pink and green plaid skirt, and yellow and pink high-top shoes. Her most well-known item of clothing is her frog backpack. She is sometimes seen without it on some occasions.
Gallery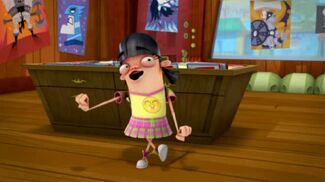 The image gallery for Yo may be viewed here.
Relationships
Chum Chum and Yo's relationship
Trivia
She owns a variety of Yamaguchi digital pets. Scampers, one of them, seems to have lived a long time.
As a pirate, she goes by the name "Lady Revenge" (Fanboy A'hoy!).
She has a castle dollhouse (The Incredible Shrinking Fanboy).
She has a major crush on Chum Chum and wants desperately to play with him to Fanboy's dismay. She's shown doing this for most of Season 1 but in Season 2, she doesn't seem to do it anymore.
Her best friend beside Ingrid is Lupe.
She first appeared in the pilot episode, at one of the desks eating lunch, while her first speaking part was in the first part of the third episode.
She has a pinecone named Ingrid who is her "best friend" (Prank Master).
She seems to be a real good prankster, especially when it comes to Fanboy (Prank Master). For every prank, she uses the phrase, "In Yo Face!". She then slaps a sticker on your forehead.
She can be brave when she's in the graveyard (Fanboy A'hoy!).
She gave Chum Chum gift box rocket boots for his birthday (Present Not Accounted For).
"Brain Drain" reveals she owns a transporter cell phone made by her dad.
She served as the "communications" on Fanboy's rescue mission in "Saving Private Chum Chum".
Yo only has a speaking role in six episodes of season 2, making that season her shortest role to date.
Memorable Quotes
Episode Appearances
Community content is available under
CC-BY-SA
unless otherwise noted.